The Finest Terracotta Pots Available
Terracotta is the ideal material to use as an excellent planter. For centuries terra cotta has proven to look beautiful indoors. Terracotta pots will wear equally as beautiful when placed outdoors. Terra cotta is a heavier and sturdier material than plastic. For this reason, trees, floral plants, and even decorative bushes are often planted in it.
Tuscan Imports, a leading provider of Italian terracotta pots in the United States, offers an authentic, Italian terra cotta planter in many different sizes and styles. Our pots, planters, and vases in the Impruneta Collection are backed by a manufacturer's lifetime guarantee against frost. In fact, each terra cotta pot in our Impruneta Collection is frost resistant to -22°F. It is this durability paired with the hand of a skilled artisan that make our terracotta pots the absolute best available. This being the case, our pots, planters, & vases in the Impruneta Collection will last a lifetime when properly cared for.
Most importantly, we strive to offer fair pricing. For this reason we offer trade discounts to qualified companies. Because our prices are so competitive, we choose not to list them online. So we would be happy to email you a price list or a catalog. If you are interested in ordering an item, please note the item number, & head to our order page to obtain a price list and learn about the ordering process. Please feel free to contact us with any questions. We would love to hear from you.
Terracotta Pots, Vases, & Planters
Click on the image to see the product's article number & measurements.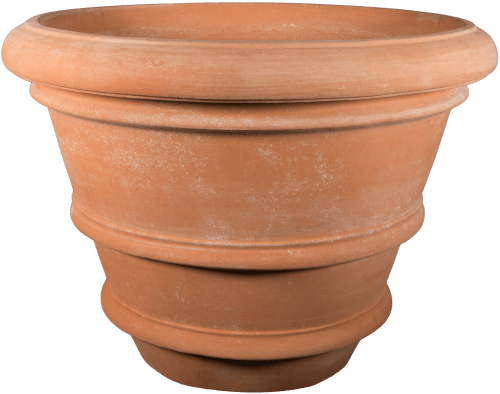 310
Vaso Liscio
310/20 - 8"id, 10"od, 8"h
310/25 - 10"id, 12"od, 9"h
310/30 - 12"id, 14"od, 11"h
310/35 - 14"id, 16"od, 12"h
310/40 - 16"id, 19"od, 15"h
310/45 - 18"id, 21"od, 16"h
310/50 - 20"id, 23"od, 17"h
310/60 - 24"id, 27"od, 20"h
310/70 - 28"id, 32"od, 25"h
310/80 - 32"id, 36"od, 28"h
310/90 - 36"id, 40"od, 32"h
* Larger upon request * 40"-60"id
Each terracotta planter from Impruneta is frost resistant to -22°F